5 Campaign Audits You Should Be Doing All The Time
Audits should be done often, at least by quarter—because honestly, there's always something you can update and improve.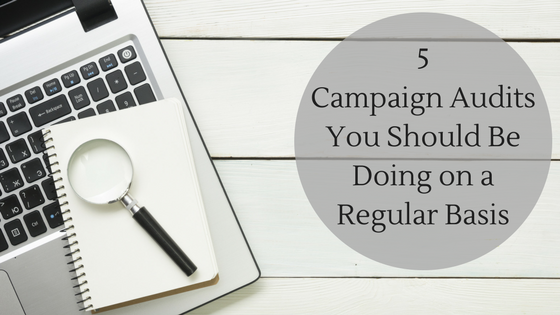 You can't let your strategy (website, social efforts, workflows, etc.) get stale after the build. Your campaign needs continuous improvement. Take a look below at the five must-checks when you're looking at your strategy and ask yourself a couple questions.
UX (USER EXPERIENCE)
What is the website load time? Are there items that don't load on your site?

Is your website easy to navigate? Is there anywhere your users could get lost?

Is your website engaging? Are there places to click-through to, watch, or other ways to interact?
SEO (SEARCH ENGINE OPTIMIZATION)
Think like your customers. What would they type in google based on your industry? Search this on Google. What's your rank? Do you pop up on the first page?

Are your images "tagged" correctly with alt-tags? (

Learn more about alt-tags and their importance!)

Do you have helpful and relevant title tags and meta descriptions?
CONTENT
Do you have any resources for visitors? Are your blogs interesting? Relevant? Updated?

Do you have spelling or grammar errors?

Copy on website, is your message and tone consistent?

Is that tone consistent across all your interaction channels (all social media accounts,website, email etc.)?
SOCIAL
What is the consistency of postings?

Is there a good ratio of informative to personality posts?

Ist there a consistent tone for your company, does it change per channel?
EMAIL
Again, check for consistency in messaging and tone.

Do you have spelling errors?

Are you linking to social sharing options?

Is your template mobile friendly, and does it work with different domains?

Is there a high bounce rate and/or low click-through rate? (This might mean you need to change your content in the email.)

Is there a low open rate? (This indicates your subject line should be changed to be more enticing. Or consider sending at a different time of day.)
You'll be surprised what you can pull together and evolve using these audits. You will see it in the numbers immediately after patching these holes, trust me.
A top level audit is good to do on a consistent basis, but an audit and planning stage is vital for any website build or refresh. We put together an in-depth workbook on this stage for you to use while you audit your website.