Helping You Overcome One Of Your Biggest Challenges As A B2B Marketer–Lead Generation With Landing Pages Optimized For Conversions
Lead generation is an area of marketing every B2B marketer wants to succeed in today. And understandably so! It's a proven way to close not only more but more high-quality, ready leads for your business.
While the desire to succeed with lead generation is certainly there, 61% of marketers today say that it's their top challenge. First, it's creating a strategy that will allow you to attract leads. Then it's providing content that will engage users and compel them to convert. Most importantly, it's ensuring your landing pages are optimized for the user. An optimized lead gen landing page with an offer your visitors can't resist and a CTA provoking them to convert–well that's a recipe for successful lead generation.
It is my goal today to dive into a critical aspect of lead generation, the landing page. Because no matter your lead generation strategy, a landing page is required. I'll help you optimize your landing pages so that you can capture the majority of visitors you attract into leads. Follow the tips below.
One purpose–targeted landing pages
The best and highest converting landing pages are those that have one purpose and one purpose only–getting visitors to convert. Once a visitor arrives on a landing page, it's your job to keep them there. If there are links on the page to move about your website, you run the risk of visitors doing just that. One of the best ways to increase landing page conversion rates is to simply remove your site's main navigation from the page.
Build with
only
the essentials
How do you keep visitors there? By including only these essential elements:
A headline and (optional) sub-headline

A brief description of the offer

A supporting image (bonus points for videos)

Most importantly, a form to capture information
Use consistent messaging
Keep the messaging of your headline consistent throughout, especially in terms of your CTA. If people click on a link for a free offer then find out there's a catch on your landing page, you'll instantly lose their trust. Similarly, if the headline reads differently than the CTA, it might lead to confusion, and the visitor might wonder if the CTA is linked to the wrong page.
Keep clutter to a minimum
When it comes to landing pages, less really is more. A cluttered page can distract visitors from what's really important–obtaining your offer. Be brief and to the point. In addition to your headline you'll want to include a brief explanation of what the offer is, followed by a few bullet points outlining the value of the offer.
Emphasize the value within
Describing the benefits of the offer is more than just listing what the offer is comprised of. Do your best to convey the value of your offer clearly and effectively–trust us, your users will hold you to that.
Use some kick butt visuals
Landing page visuals can be extremely effective. Visuals, in general, provide subtle and subconscious indicators that help visitors choose to act. When done correctly, the visuals you include on your landing pages can complement the text to make a more convincing case, or they can replace text for a quicker impact.
There's a type of satisfaction that comes with being able to unwrap a package and hold an object in your hands. But with most offers being a digital product–your visitors don't get that. Create a sense of what your visitors will receive by showing your digital content inside physical items (like a smartphone or other device). See how we do this for our Pinckney Lookbook: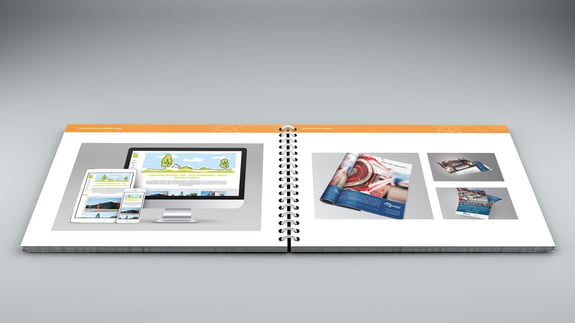 Remember, conversions don't happen without forms
Without a form, there is no way to "convert" a visitor into a lead. Forms come in handy when it's time for people to sign-up, subscribe to your site, download an offer, request a service, or "contact us".
Get the length of your forms just right
Form length is critical. You want to be sure you're requiring the appropriate amount (and type) of information from your user. There is no magic answer when it comes to a number of fields a form should contain–but best practices are to only collect the information you really need.
There is a direct correlation between the number (and type) of fields you require and conversion rate. This is because with each new field you add to a form, you create more work for the visitor, which means fewer conversions for you. But on the other hand, the more fields you require, the better quality those leads might be. The best way to know what works for you is to test.
Often times a visitor will avoid filling out a form because it appears too long. If you don't feel as though you can eliminate fields, do what you can to make the form look shorter by adjusting the styling or putting fields side by side.
Encourage social sharing
Include buttons on your landing pages that enable your prospects to share content and offers on the social platform of their choice. The more eyes you can get on your landing page the better.
With these tips, you're well equipped to convert the traffic you're driving to your landing pages into leads. Did you like these tips? There's much more that goes into lead generation and we have tips and tricks to help you with it all. Download your copy of The 30 Greatest Lead Generation Tips, Tricks and Ideas to access them all.
[mkd_button size="large" type="" text="Download 30 Lead Gen Tips, Trick & Ideas" custom_class="" icon_pack="font_awesome" fa_icon="" link="https://info.pinckneymarketing.com/30-lead-gen-tips-tricks-and-ideas" target="_self" color="" hover_color="" background_color="" hover_background_color="" border_color="" hover_border_color="" font_size="" font_weight="" margin=""]
Once you get the lead generation machine working for you, that's when the lead nurturing fun begins.