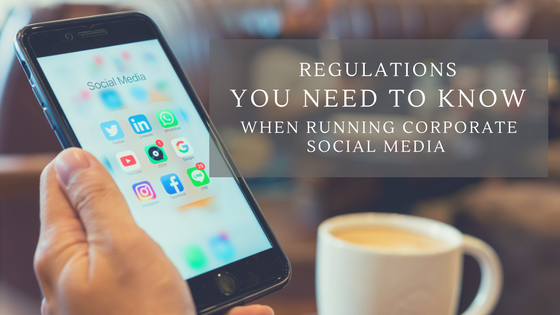 Social Media Regulations Guide
In 2006 sponsorships were introduced to our social media world with great resistance. If you can remember – we all believed social media should remain an advertisement-free network for consumers to communicate.
But as we know, "marketers ruin everything" and it was only a matter of time before businesses integrated themselves into these popular (and pure) platforms.
Now today, social media is a staple in most marketing strategies, whether a company pays cash for product posts or pays for a blogger's travel expenses to post on a company's behalf during an event.
This has proven to be a great way to communicate with leads and potential customers, but has also forced the FTC (Federal Trade Commission) to develop strict guidelines around how paid and unpaid sponsorships are presented to audiences.
It's the same legal regulations you're used to seeing in commercials and print ads – think of the lists of potential side effects of medications. Because the traditional FTC regulations still govern emerging media – these traditional advertising laws now have to be applied to social media.
Companies who fail to meet these FTC guidelines may incur penalties and risk tarnishing the reputation of both their own brand image, and the influencer's.
If your organization is planning to publish content into the realm of social media (Twitter, Instagram, Youtube, etc.) you should become familiar with the specific social media regulations and compliance challenges that pertain to its company and industry.
Disclosures
Social media influencers promoting a brand must disclose their sponsorships to their followers for ethical and legal reasons.
This means that sponsored ads should include a statement like "Company X gave me this product to try" or "sponsored" to show that they are receiving compensation of some kind for their feedback. This is for the protection of the audience (aka – the followers, like you and me).
This protects followers by helping them evaluate the level of biasism the influencer might have and make fair judgements on the product. This rationale applies across the board, regardless of the advertising medium.
For Twitter, an influencer might have limited characters. But this is no excuse. They can use simple statements like "sponsored," "promotion," or "paid ad". They could even start a tweet with simply "#ad" – which takes only 3 characters.
YouTube sponsored videos should lead off with a verbal indication of sponsorship such as "X company gave me this product to try," as well as a written disclosure of sponsorship in the description section of the video. The FTC also says that a YouTuber must not make any claims about a product that are not factual (ReelSEO).
The FTC is only concerned about endorsements that are made on behalf of a sponsoring advertiser. For example, an endorsement would be covered by the FTC Act if a company – or someone working for a company– pays you or gives you something of value to mention a product. If you receive free products or other perks without the expectation that you'll promote or discuss the advertiser's products in your blog, you're covered.
Testimonials
Testimonials claiming specific results usually will be interpreted to mean that the endorser's experience reflects what others can also expect.
Statements like "results not typical" or "individual results may vary" can change that interpretation, which leaves advertisers with two choices.
The product the testimonial is about should have adequate proof to back up the claim that the results shown in the ad are typical, or the advertisement should have a clear and conspicuous disclosure stating the average expected performance in the circumstances shown in the ad.
Sharing Photos
Journalism outlets, even tabloids, can run celebrity photos under the protection of the First Amendment, but marketers usually play under a different set of rules.
Whenever that image, voice or likeness is used for any sort of promotional gain, be it a tweet or a traditional ad on TV, if that's done without that person's permission, they have right to damages. In order to share a tweet or photo of someone remember our four rules we went over a couple weeks ago:
Get permission

Simply

Be clear about the relationship
If they want it down – take it down
Overall, the FTC's guidance is more about intent, leaving it up to them to judge on a more case-by-case basis.
For more best practices of your social media and inbound marketing campaign, check out our Inbound Marketing Success Guide.